School Events DJ Service
Your school parties, let our DJs handle the music and lighting
Ontario's Best School Dance DJs & MCs.
Double DJ is a professional DJ and MC company based in Ontario, Canada that specializes in school dance events. With over a decade of experience in the industry, Double DJ has established itself as one of the premier entertainment providers for high school events in the province.
In addition to their DJing skills, Double DJ also offers MC services, with Danny and Jamie serving as the emcees for the evening. They are able to keep the flow of the event running smoothly, making announcements, leading games and activities, and interacting with the crowd to keep everyone engaged and having a great time.
Double DJ is committed to providing top-notch entertainment for school dances and other events. They take the time to work with their clients to understand their preferences and create a customized playlist and experience that meets their specific needs and goals.
Z

Professional equipment: School dance DJs typically have high-quality sound systems, lighting setups, and other equipment to ensure the best possible experience for attendees.

Z

Wide selection of music: A good school dance DJ will have a vast library of music to choose from, ensuring that there is something for everyone in attendance.

Z

Crowd interaction: A skilled DJ can keep the energy high by interacting with the crowd and encouraging participation in activities like line dancing or group games.

Z

Customized playlist: Many school dance DJs will work with their clients to create a customized playlist tailored to the specific preferences and theme of the event.

Z

MC services: Some school dance DJs also offer emcee services, which can help keep the flow of the event running smoothly and make announcements as needed.

Z

Stress-free planning: Hiring a school dance DJ can take a lot of the planning and logistical burden off of event organizers, allowing them to focus on other aspects of the event.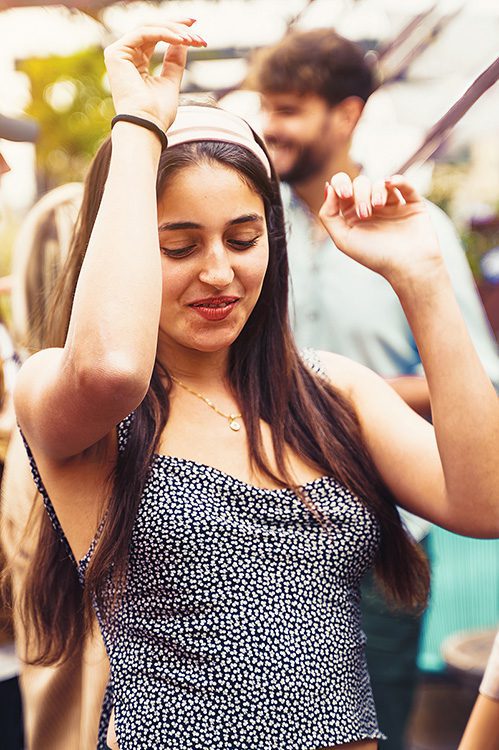 What makes
DOUBLE DJ
the best & only choice for your school's events and parties?
At Double DJ, we prioritize getting to know our clients in order to provide the best possible DJ experience. As a school DJ, our goal is to ensure that all students, staff, and teachers have a fantastic time at any event or party. We do this by carefully crafting a playlist based on your chosen music and executing it seamlessly throughout the night, from the opening ceremonies to the final dance. With Double DJ, you can trust that your school's events will be a hit and that every detail will be taken care of.
Professional Custom Mixing
We listen to you and understand the needs of your school event or party. By letting us know the purpose, program structure, theme, and playlist school DJ, Double DJ will be able to mix and set up the best soundtrack to each and every moment of the school event.
On the day of your school event or party, Double DJ is committed to helping you make the most of your time. We handle all of the sound and lighting setup, allowing you to fully participate in and enjoy the event. Our professional school DJ services are designed to ensure that everyone at your school has a fantastic time. Whether you're planning a small gathering or a large-scale celebration, Double DJ has the experience and expertise to make it a success. You can count on us to take care of all the details, leaving you free to relax and enjoy the festivities.
Clients love our School DJ services
Amazing DJ! Always gets the party going! Any kind of event they'll work with you to make sure you get exactly what you want! Very professional and great communication! Definitely recommend Double DJ Services
Dan took care of our wedding and he did a wonderful job making it a perfect day. He planned the day with us meticulously and everything came out perfectly. I recommend Double DJ to everyone and Dan especially. Thank you for making memories we will never forget.
Dan did an absolutely outstanding job. I was so worried about there being "cheesy" reception dance music and Dan made sure that our guests had the most incredible time. He also made sure that I knew I could contact him as much as I needed to with questions, concerns or ideas. Simply phenomenal, look no further for your DJ (and lighting!)
Double DJ deserves 5 stars across the board. Their attention to detail and passion to meet our needs is unparalleled. My husband and I had the privilege to spend as much time as we needed during our planning session to ensure that all details would be perfect. This brought such a sense of comfort and solidified our confidence with Dan. He allowed us to see things from his professional perspective while still maintaining what my husband and I envisioned. He truly is an expert in his field.
Make your School event extra special with these effects
Dance Light Upgrades
Available on t-bars, cross truss, or upright truss, upgrade to full size or mini-moving head fixtures to create a truly customized light show. First dance spotlights, cake highlighting, and high energy dancing, programming is unique to each venue and event.
Uplighting
Transform your room, highlight architecture, or add colours behind your head table, available in thousand of colours.
Full Colour Aerial Laser
Transform your room, highlight architecture, or add colours behind your head table, available in thousand of colours.
Dry Ice
Transform your room, highlight architecture, or add colours behind your head table, available in thousand of colours.
World-class DJ Entertainment
Whatever your event is, our school dj set-up fits right in.
Beautiful DJ Setups
We understand that aesthetics are an important aspect of any event, especially when it comes to photography. That's why we take the time to ensure that our DJ setups are visually pleasing, with no unsightly wires or hardware in the background of your photos. We know that you'll want to look back on your event with pride and happiness, and we want to make sure that the DJ setup is a beautiful and cohesive part of your overall décor. By paying attention to these details, we help to create a cohesive and polished look that you and your guests will love.
High quality equipment
At Double DJ, we understand that each and every event is important and that's why we use exceptionally high-quality equipment for all of our DJ sound and lighting systems. We know that you want your event to be a success, and we go above and beyond to make sure that everything runs smoothly and looks great.
In addition to using top-notch equipment, we also place a strong emphasis on professional attire for all of our DJs. We understand that how our DJs dress reflects on the overall tone and atmosphere of the event, and we guarantee that they will be dressed appropriately for the occasion. You can trust that Double DJ will always present a professional and polished image, helping to create a cohesive and high-quality experience for you and your guests.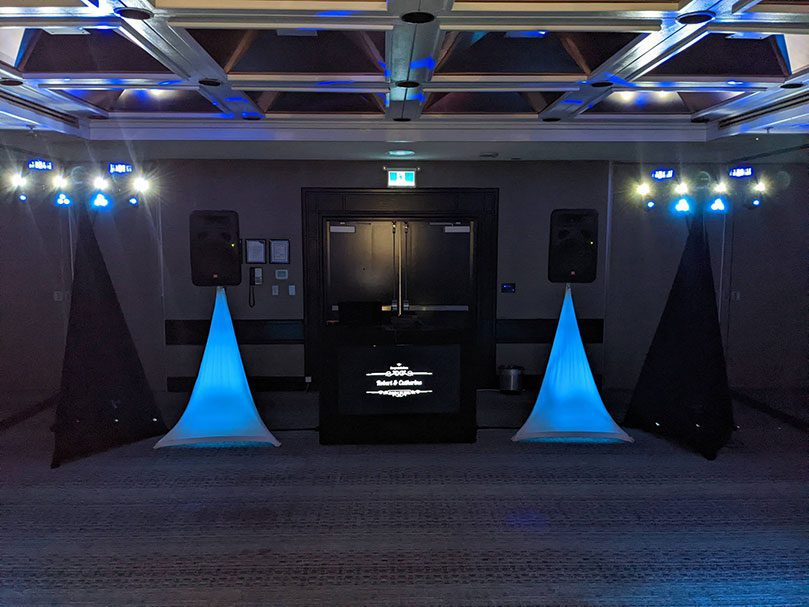 Powered Full-Range Speakers
Exceptional Quality
Digital sound
Superbass
DJ Booth
Premium Booth
Custom Logo
Mounted TV
LED Lights
Choice of colours
Multiple effects
Sound sensitivity
Your School Event
, a lifetime memory
Ultimately, the team at Double DJ is dedicated to making your school event an unforgettable experience. Whether you're looking for a traditional event or something a little more out-of-the-box, Double DJ has the experience and expertise to make it happen. So if you're planning your prom, graduation, frosh or other event and want to take your celebration to the next level, be sure to give Double DJ a call.